Hotline Nos. Conference: +91 9311829031, Exhibition: +91 9310185550
Delegate Profile
IT'S TIME TO GROW BIG!
Startup Summit 2017 Ahmedabad is a two-day event packed with perspective building insight, training, coaching and mentoring for businesses during their critical start-up years and getting ready to take up growth challenge.
Key Take Aways
How to recognize a business opportunity or identify a feasible business idea.
Creative techniques to extend expand and further a business idea.
How to create an actionable business plan.
Key skill sets for early-stage entrepreneurship.
How to structure terms and conditions between entrepreneurs and external investors.
Basic working models for customer, market and competitor analysis.
How to establish formats of decision-making, execution and action oriented management with process that encourages entrepreneurship and innovation.
Recruitment, team building and management processes suitable for new ventures.
What it takes to have a successful "brand" and how to create and grow your "brand" for potential opportunities.
Scaling up possibilities in start-up companies.
Developing your business talents, capabilities, leadership, and skills as a business owner.
Rub shoulders with industry leaders, VCs and entrepreneurs
Discover the business-critical innovations that are shaping and scaling startups.
Who Should Attend?
If you are a "pro-action" entrepreneur and aspire to transform your small business into a big league player, you cannot Miss # Entrepreneur 2017
Prospective, emerging and existing businesses
Enterprises looking at funding
Businesses looking at JVs, alliances and tie-ups
Enterprise Professionals
Business Consultants and Analysts
Product led enterprises
Service Led enterprises
Chain store operators
policy makers and Business Associations
Real estate business owners
Retail and B-Schools students
Instant Information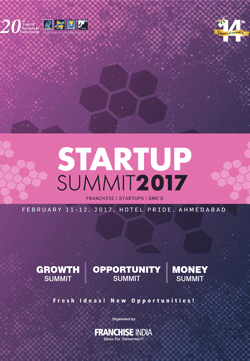 Copyright © 2017 Franchise India Holdings Ltd.
Powered by: