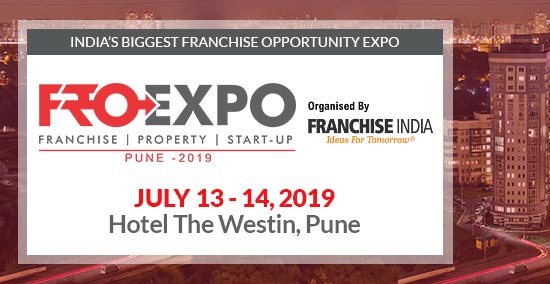 FRO 2019 July - 114th National Franchise & Retail Show
India's premier and most trusted business & tradeshow is back in Pune to provide a platform for highly evolved prospects & qualified investors and entrepreneurs from across India, neighbouring countries and delegations from the other parts of the world to meet face-to-face with some of the most accomplished Business Ideas, attend unparelled Business Summits & Seminars and learn more about India & fast growing MSME industry in India.
Why is FRO 2019 important?
From Investor's perspective
Learns the tricks of the trade from industry tycoons
Gets an opportunity to become entrepreneur
Scope to associate with well known brands
Liberty to choose the business of his choice
Gets within the budget solutions
Lands into a safe & secure franchise agreement
From Exhibitor's perspective
Gets prospective franchise partner
Get an opportunity to highlight concepts
Can market the brands well
Increase the sales opportunities
Opportunity to expand its base
Who Should Exhibit
Ideal forum for those who want to meet prospective business partners and like-minded co-founders.
Best for people looking for franchisee partners, licensed agents, authorized distributors or OEM business associates.
For people offering advice and support products; services providers in finance, technology, marketing, legal, accounting; advisory services to retail and consumer service sector.
International franchise associations and International franchise concepts wanting to network with high net worth investors and prospective master/multi-unit franchisees.
Retail real estate developers looking to explore leasing arrangements.
Benefits of Exhibiting
Will demonstrate the great potential of your franchise or business venture to over 3,000 expected business visitors
Completely committed audience with 80% visitors having preregistered their interests
Will target bigger markets as investors from all north India regions will be coming
Most extensive media campaign in the industry including dedicated website, business magazines, newspapers and electronic media will drive the show.
Customized media solutions for specific media requirements to generate greater mileage.
Date & Venue
Date - 13 - 14 July, 2019
Hotel The Westin, Pune
Floor Plan
Coming soon...
Our Associate
Coming soon...
Exhibitors
Coming Soon...
Fabricator Details
Coming soon...
Hotel Detail
Date - 13 - 14 July, 2019
Hotel The Westin, Pune