Trade Goldmine Benefits
Tags: Sudhanshu Malhotra CEO, Webcom E Trade PVT. LTD, trade goldmine, BOS (Business Opportunity Show) and FRO (Franchise and Retail opportunity) Show
By: Namita Bhagat | March 11, 2011 | comments (0 ) |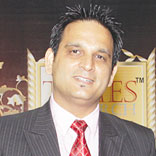 The leading brand in the field of high-end IT training and solutions sharing the vision to provide high quality training and services in the trading markets is Webcom E Trade. In an interview Mr Sudhanshu Malhotra CEO, Webcom E Trade PVT. LTD, shares his experience of participation in FRO Hyderabad.
Namita Bhagat(NB): Share the origin and growth of your company and how did the company opt for franchise route?
Sudhanshu Malhotra(SM): Webcom E Trade is an offshoot of Webcom technologies. Webcom technologies is a leading brand in the field of high-end IT training & solutions. The company has been a key player in the industry for last 12 years. Webcom E Trade was incepted in the year 2010 with a vision to provide high quality training and services in the trading markets (indices, forex & commodities). Webcom E Trade's USP is its premier software product popularly known as 'trade goldmine'. This is unqiue technical analysis tool of the trading markets and gives buy/sell signals in forex, commodities & indices. The perfect buy/sell signals help traders to trade profitably.
NB: Promotional strategy plays a very significant role in the appropriate growth of the brand. Kindly elaborate.
SM: Advertising, marketing & promotion of the product is imperative during this era but I still believe if the product is powerful it will automatically pull attention. However, taking the product into the masses is a big challenge and it needs very aggressive marketing strategy & media presence.
NB: Franchise India Holdings Limited organises series of events in the form of BOS (Business Opportunity Show) and FRO (Franchise and Retail opportunity) Show every year to provide a platform to the entrepreneurs and investors to come face to face. Your company participated in FRO Hyderabad, what factors motivated you to participate in the event?
SM: We were really skeptical in participating in the event, however, with little precaution from the marketing team of franchise India we participated. We went to at Hyderabad FRO with little expectations, but to our utter surprise the response was overwhelming and especially around our product as this is a very unique, novel & first time in India with no competition around business.
NB: Share your experience of being one of the participating companies at FRO.
SM: I give credit to franchise India team for organising this event successfully.I would go on to say that the even was nicely organised & the footfall was good in numbers, needless to mention they were relevant too.
NB: How do you think the brands' participation in the event has contributed to its growth of your company?
SM: Webcom E Trade & trade goldmine is looking for immediate results in partnerships & also in branding. Our participation in the even has gone a long way in serving both the aspects.
NB: What advice would you like to give to the entrepreneurs and investors aspiring to participate in the show to get maximum benefits from it?
SM: Franchise India BOS and FRO are perfect platform to exhibit your product, but I still insist that the product should have the power & value for money for the customers.
Comments