Showing 1 - 2 Interviews out of 2
Rippling success via franchise route
Avinash Chauhan (Country Head - Franchise Development) , Esperanza Corporate Pvt. Ltd
Leading pre-school and 24 hour care chain offering world's unique pre-schooling and child care solutions is Esperanza. In an interview Avinash Chauhan, Country Head - Franchise Development, Esperanza...
Apr 18, 2011





0 Comments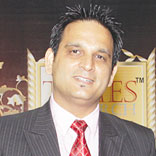 Trade Goldmine Benefits
Sudhanshu Malhotra (CEO) , Webcom E Trade Pvt. Ltd
The leading brand in the field of high-end IT training and solutions sharing the vision to provide high quality training and services in the trading markets is Webcom E Trade. In an interview Mr...
Mar 11, 2011





0 Comments